IT Jobs is not supported in your location
We are expanding our reach! Check back with us to find out when we launch in new regions.
Never miss an opportunity with
Job Alerts
Job Alerts - our instant job notification feature - sends the most suitable IT jobs straight to your inbox, as soon as they're posted to our site. Job Alerts are instant, free and easy to use, so you'll never miss the perfect job.
Login to view your Job Alert preferences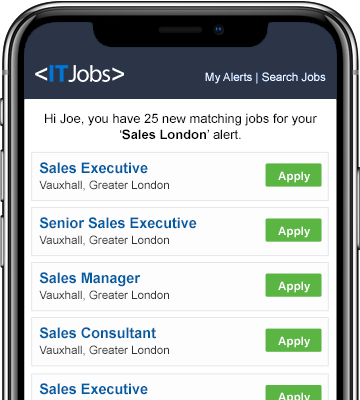 Benefits
They can be set up in minutes
Simply tell us your preferred job title and your location and we'll make sure you receive local and relevant job postings from top IT recruiters.
You can set multiple Job Alerts
Not sure what job to go for? Open to ideas? With IT Jobs, you can set up Job Alerts at any time – simply enter a variety of job titles or locations.
View your alerts and apply, anywhere
If you've uploaded your CV and a covering letter to your IT Jobs account, you can apply to jobs you receive from Job Alerts at anytime, anywhere. Apply with 1-click from your mobile, tablet or desktop.